Our album Lorius (2000) has a suite (Introduction – Fandango – Arin-arin) called 'Etxeberriatarrak' ['The Etxeberrias'], as a tribute to the families of Basque gypsies with this surname who have lived here for centuries.
So much so, that in this town if you're asked your surname and you answer 'Etxeberria', you're likely to be told, 'So you're a gypsy!' As for me, I have two Etxeberrias in my first eight surnames, though I'm not aware of any relationship to the Roma.

The instrumentation we used in the Lorius recording was accordion, flute, cajón and (naturally) flamenco guitar. It worked out pretty well and we used the set to finish our gigs. Indeed, sometimes we still do. This combination of instruments has become more common in Basque folk music and we've heard a number of txarangas (festive brass bands) and dance groups use our arrangement of these well-known tunes, which were originally part of the txistu repertoire.

Through Suso Saiz I met the percussionist Tino di Geraldo, with whom I played in the group of the (then) young singer-songwriter Javier Álvarez, who was to become quite famous.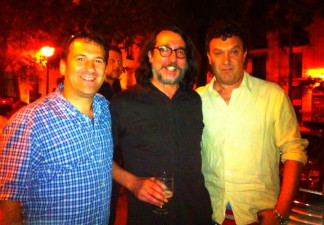 It was Tino who introduced me to the cajón and since then I always associate the instrument with him. I've had the good fortune to work with him on several tours, productions and projects. And long may it continue, my friend...
But in Lorius the most agreeable surprise for us was the young flamenco guitarist David Escudero, who opened our eyes with the self-confidence and sure-footed technique of his accompaniment. Ever since we've been good friends and have worked together from time to time.

I wanted 'Ezkutari' to fit into the Basque-flamenco style we had developed in Lorius, and so I chose a structure, melodic phrases and harmonies that would suggest this. On this track the cajón is played by Oscar de la O, who often plays with David and who showed, as David did, enthusiasm and talent in equal measure in the rehearsals and recording.

As for Juanjo Otxandorena, he comes in with original bouzouki phrases that allow the fandango to hold onto its Basque roots. Almost, almost, like a dish from the New Basque Cuisine!