This fandango reminds me of the music of Bi beso lur (1998).
It also coincided with a fandango I was recording as a duet with the trikitilari (accordionist) Xabi Solano on his album Ereñotzu. In 'Garazi' we recorded the melody first, so I was able to try out alternative lines, textures and interesting bass-runs on the accordion. They ended up being somewhat muted amongst the other instruments, especially that dogmatic alboka.....
And what of Juanjo's intro on the bouzouki? It's a sound that brings me back to the 70's and bands like Haizea, Errobi and Itoiz. Well, at least for a few seconds...
It's the signature of the fifth member of Alboka, our sound engineer Mikel F. Krutzaga, who for many years now has had total freedom to do, undo, use, ornament, tamper, manipulate, decorate, patch, mix and master our albums.


a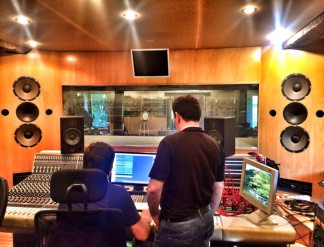 I first met Mikel in 1991, I think. Both of us a lot younger than we are now, though he's still a bit younger than me. He did the sound for my quartet with Angel Unzu in Bilbao. I've fondly kept the DAT recording of that day and it sounds very good!

Since then Mikel's career has been on an upward curve and I've had the pleasure of working with him on very many projects. Apart from our first CD in 1994, he's recorded and mixed all Alboka albums. Indeed, our sound is due in great measure to his careful craft.

Eskerrik asko, Mikel, let the music play on.